SANTIAGO, Chile – Capping a dominant week in Santiago, Chile, the U.S. Women's National Team (WNT) clinched the 2023 Pan American Games gold medal after defeating Puerto Rico, 7-0, in a six-inning run-rule. The Eagles remained explosive at the plate with a combined 12 hits in the win with five U.S. batters tabbing a multi-hit performance on the day – including Ali Aguilar (2-for-4), Rachel Garcia (2-for-3), Amanda Lorenz (2-for-3), Haylie McCleney (2-for-3) and Dejah Mulipola (2-for-3). Taking care of business in the circle for Team USA was Ally Carda who limited the Puerto Rico offense to one hit and no runs allowed while fanning seven batters through six innings.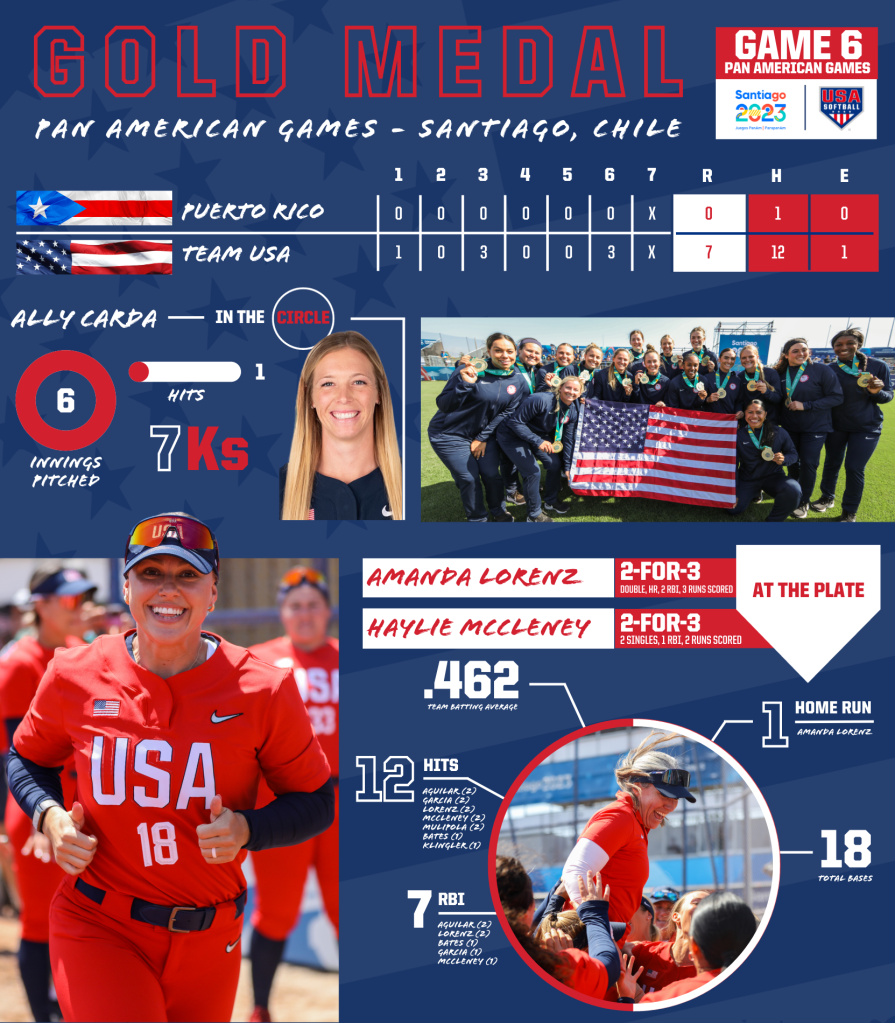 The Eagles got on the board early thanks to a one-out long shot from Lorenz that claimed the U.S. lead, 1-0, in the bottom of the first. Quiet through the second inning, a pair of walks and a single from Aguilar relit the spark for the U.S. in the bottom of the third to plate one, while a single from Garcia and back-to-back walks to Erin Coffel and Sis Bates pushed two more across – extending the U.S. lead, 4-0. The Puerto Rico defense managed to quiet the U.S. bats once again through the fourth and fifth innings, until a triple from Baylee Klingler and a single from McCleney put another run on the board with two outs in the sixth. Lorenz then sent a double to left field to bring the squad within one of the run-rule, while Aguilar pushed the final U.S. run across the plate with a single in the gap to seal the 7-0 victory in walk-off fashion.
The Eagles close out the 2023 Pan American Games with an undefeated record, while tabbing three shutout victories through six games. Shining for the U.S. at the plate was Mulipola with a .667 batting average, followed by Garcia (.538) and Aguilar (.526). The U.S. pitching staff of Carda, Montana Fouts, Garcia and Kathryn Sandercock proved dominant in the six wins – tossing 41 combined strikeouts through 33 innings pitched as Carda led the pack with 17 K's, followed by Garcia (12) and Fouts (7).
Team USA has made an appearance in each Pan American Games gold medal matchup since softball was added to the program in 1979, winning silver only twice in 12 appearances. The Eagles have faced Puerto Rico in three previous Pan American Games gold medal contests (1979, 1987 and 1995), coming out on top each time to stand atop the podium. Today's gold medal victory marks the 10th Pan American Games gold medal for the U.S. WNT while extending its overall record to 106-5.
For more information on the U.S. WNT, visit USASoftball.com.