Each NCAA Softball season, USA Softball recognizes a Collegiate Player of the Year based on outstanding play over the course of the entire season. At the beginning of each season, USA Softball issues a Top 50 "Watch List" for Player of the Year, followed by a list of finalists that narrows from Top 25 to Top 10 and Top 3. The USA Softball Collegiate Player of the Year is awarded during a team reception the week of the WCWS.
The USA Softball Collegiate Player of the Year award is voted on by previous award winners, coaching representatives from 10 Division I Conferences in the 10 USA Softball Regions as well as members of National and Local media who consistently cover Division I softball across the country.
---
The story behind the trophy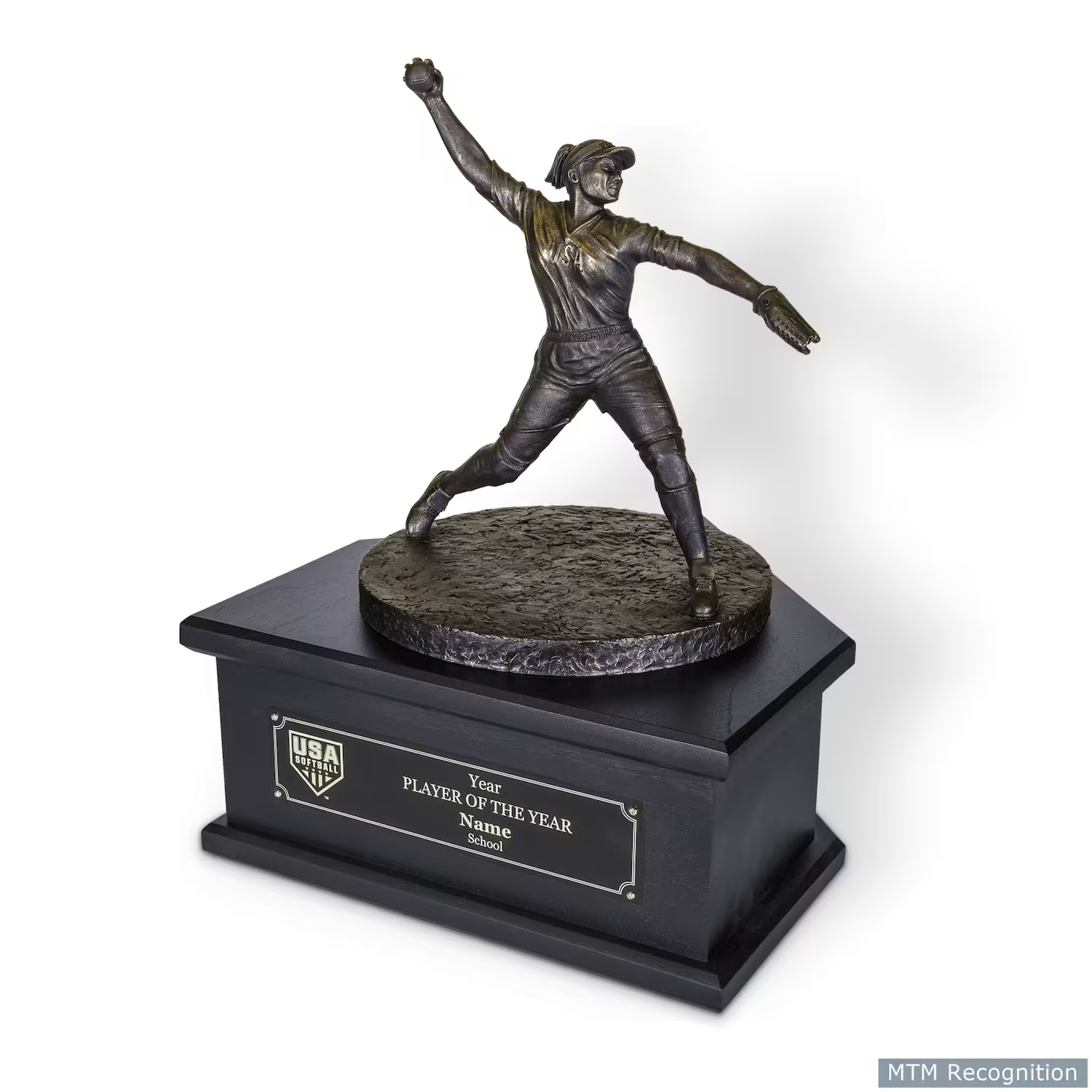 Redesigned in 2017, the Player of the Year trophy symbolizes the prestige of the award in honor of one of the greatest to ever wear the USA Softball uniform – three-time Olympic Gold Medalist, Lisa Fernandez, whose athletic achievements embody the essence of this prestigious award.
USA Softball commissioned MTM Recognition, the nation's leader in sports awards and recognition, to craft the iconic Player of the Year trophy in effort of creating a symbol of Softball for years to come.
Though the sculpture is frozen in time, the fluid motion of the wind up and the player's determination shine through in this iconic bronze. Mario Grijalva, a graduate of the University of Science and Arts of Oklahoma with hundreds of works of art to his credit, captured the fine detail of Lisa's pitch through the month long process of sculpting the clay to ready for casting. 
The black stained walnut base stands 5 ¼" tall and 11 ½" wide at front and is cut in the shape of a softball home plate.  The bronze sculpture stands almost a foot tall atop this base to add to the rich texture of the overall look of the piece. 
---