HERMOSILLO, Mexico – Despite out-hitting its opponent, the U.S. U-18 Men's National Team (MNT) suffered a narrow 2-1 loss to Canada in the bronze medal matchup to close out the World Baseball Softball Confederation (WBSC) U-18 Men's World Cup with a fourth place finish. The Eagles round out the tournament with their second-highest finish in World Cup history, finishing second in 1981 and 1985 while also claiming fourth place in 1989. Today's matchup signifies the first medal game appearance for the Red, White and Blue in 34 years.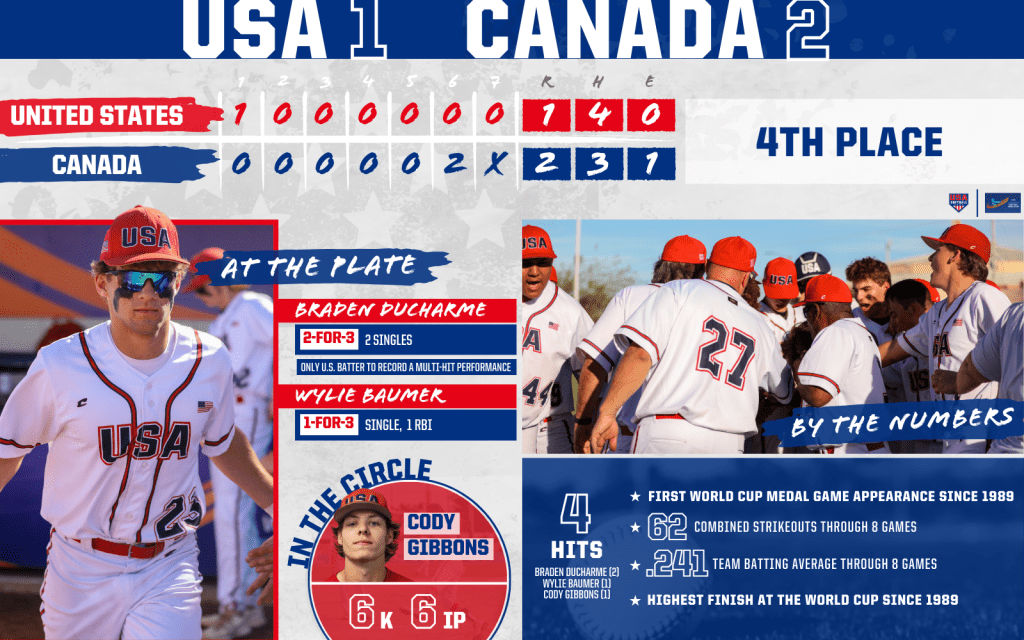 Click here to view final results, roster, event info and more »
The Eagles got on the board early in the game thanks to an RBI-single from Wylie Baumer while the U.S. defense held strong to keep the 1-0 lead until the sixth inning when Canada sent a two-run homer over the left field fence to claim the lead, 2-1. Despite runners on base in the top of the seventh, the U.S. was unable to muster any runs to take back the lead, giving Canada the 2-1 win. Keeping the U.S. in the game with another strong offensive performance was Braden DuCharme (2-for-3), who was the only U.S. batter to post a multi-hit performance on the day – followed by Cody Gibbons and Baumer who each tallied a solo base knock in the matchup. Gibbons held steady in the circle for the U.S., tossing six strikeouts and allowing only three hits through six innings.
The U-18 MNT posted a 4-4 record through its quest at the WBSC U-18 Men's World Cup with a 3-1 record through Opening Round followed by a 1-2 record through Super Round to edge the Eagles to its first Medal Round appearance since 1989. Scoring at least one run in every game, the U.S. offense combined for a .241 team batting average highlighted by Braden DuCharme (.500) and Wylie Baumer (.333). The U.S. sent five homers out of the park throughout the tournament with Logan Boom, Baumer, Brennan DuCharme, Manny Mendham and Brody Von Berge each tabbing one. A force to be reckoned with at the plate, Braden DuCharme tallied the most hits in the tournament with 12. In the circle, the pitching staff of Gibbons, Karson Martin and Kyle Miller combined for 62 strikeouts in 51 innings pitched with Gibbons fanning 59 in 44.2 innings pitched – a feat that puts him atop the tournament leaderboard. Click here to view the full tournament leaderboard.
The WBSC U-18 Men's World Cup bronze medal matchup caps the 2023 season for the U.S. U-18 MNT in historic fashion with the first medal game appearance in 34 years. To learn more about the USA Softball Men's National Team program, visit USASoftball.com.